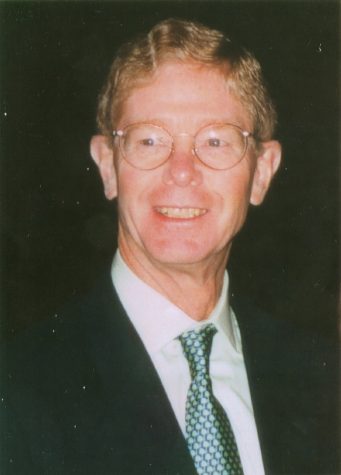 On September 11, 2001 at 9:01 a.m. on Long Island, Christine Mazza welcomed her son, Andrew Michael Mazza '20, into the world. At 8:54 p.m. that same day in New York City, Thor and Melissa Thors held their first child, Gardner Dickinson Thors '20, in their arms.
But in those twelve intervening hours, 2,977 civilians died when four planes hijacked by terrorist group Al-Qaeda crashed into the World Trade Center (WTC) in New York City, the Pentagon in Washington D.C. and in a field in Shanksville, Pennsylvania.
Fifteen minutes before Andrew was born, American Airlines Flight 11 smashed into the World Trade Center's North Tower; two minutes after Andrew's birth, United Airlines Flight 175 flew into the Southern Tower. Ms. Mazza first learned about the attacks when she was moved from the operating room to a recovery room with televisions on.
"I saw on the television 're-runs' of the North and South Towers being struck by planes," she wrote. "Honestly though, I was a bit loopy from the anesthesia… I thought I was watching a cartoon. It seemed unimaginable that what I was seeing was real."
When she was moved to a private room, Ms. Mazza was visited by her mother, who made little mention of the catastrophe and instead stayed with her daughter to coo over her grandson. Only when Ms. Mazza was released from the hospital a few days later did she discover the severity of the attacks.
"I watched in horror. I had no idea there was a plane that went down in Pennsylvania; I didn't know about the Pentagon; I knew the towers fell but I didn't realize people were trapped, and worse-died. I felt hollow and numb that my city had suffered so tremendously and I was completely immune to the entire situation," Ms. Mazza wrote.
Ms. Mazza's overwhelming disbelief and horror were echoed across the East River, where the Thors family were waiting in a labor room at New York Presbyterian Hospital. Mrs. Thors remembers how it was "a beautiful, quiet, crystal blue sky, clear Tuesday morning on the Upper East Side."
That all changed, however, when a nurse told the Thorses that the World Trade Center had been hit and they immediately turned on the television.
"With IV feeds in my arm, and sitting in the most vulnerable state, on a hospital bed about to give birth, I watched with an incredulous disconnection as the second plane hit the South Tower live at 9:03 am," wrote Mrs. Thors. "The impending birth of our child transformed from a life challenge to an emergency, survival situation."
She recalls how the maternity ward turned into a ghost town, with the stillness interrupted only by one hysterical woman brought in by firemen. Mrs. Thors said the woman had been near Ground Zero, and the trauma induced her labor. Thankfully however, like Ms. Mazza, Mrs. Thors successfully delivered Gardner.
Unfortunately, even after their sons' births, the threat of 9/11 still loomed over the new families. Shock in the United States soon turned to uproar, launching the "War on Terror," an American-led international campaign against terrorism that spawned the Iraq War. Meanwhile, New York City struggled to heal from the physical and mental scars of that day; the city spent months clearing the massive debris from Ground Zero and handling the toxins released from the collapse of the WTC.
"At the same time, it felt as if NYC had developed a stronger sense of community and camaraderie, with strangers helping each other in simple daily tasks, no longer typically rushing by with a blind eye," Mrs. Thors added, recalling how hundreds of locals immediately lined up to donate blood to New York Presbyterian Hospital.
Despite that sense of unity that engulfed the city post-9/11, both the Mazzas and the Thors family grappled with addressing their sons' birthdays: how could a family celebrate life on a day when so many people died?
"For many years Andrew's birthday was celebrated during Labor Day weekend. It was hard to celebrate his first birthday on the one-year anniversary, or his second on the second anniversary and so on," Ms. Mazza explained.
Similarly, Mrs. Thors wrote that Mr. Thors "remembers his mixed feelings of joy and guilt (for being happy) when carrying balloons home to celebrate Gardner's first birthday."
Gardner and Andrew still struggle with complex legacies of their birthday.
"For as long as I can remember, the most common response to the reveal of my birth date is a resounding, 'That sucks' or 'I'm sorry.' That got old real quick. Knowing that your birthday causes such an intense reaction is a relatively heavy idea for a younger child to grapple with," Gardner admitted.
Ultimately, the simple fact that such joyous moments occurred on such a devastating day is heartening: "Some, however, feel as we do, that we are blessed and grateful to share our very different story of bringing life into this world on an otherwise dark day," Mrs. Thors concluded.
Despite the disbelief, even anger, he faces when he tells strangers his birth date, Gardner wrote, "My birthday is so much more than my birthday which is a powerful but also humbling thought… I wouldn't change the date if I could."