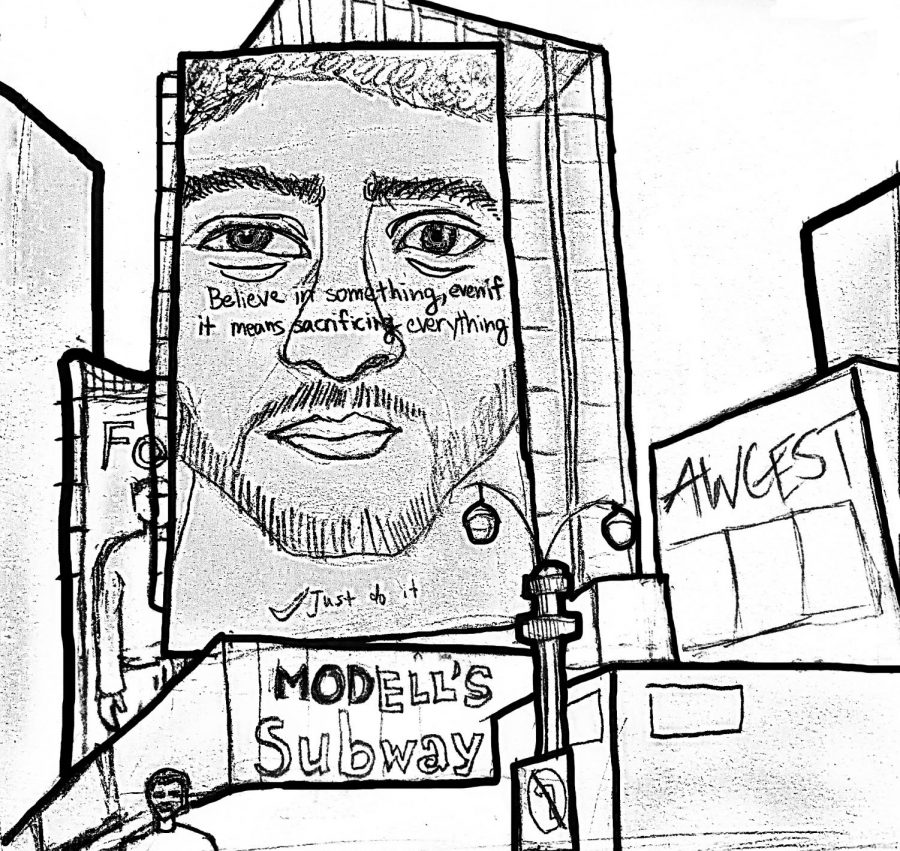 Noemi Iwasaki '22
Just over two years ago, professional football player Colin Kaepernick set the sports world abuzz. By choosing to sit, and later to kneel, during the playing of the national anthem before his games, he ignited a firestorm that would transcend professional sports.
Recently, the controversy was thrust back into the limelight when Nike launched a new advertising campaign marking the 30-year anniversary of their famed Just-Do-It campaign. It was titled, "Dream Crazy." Nike posted a full-length ad on Youtube, towards the end of which Kaepernick is revealed to be the narrator. This video was followed by billboard campaign with Kaepernick front and center, above the text, "Believe in something, even it means sacrificing everything."
National reaction was mixed. Some, like the President himself, reacted with anger and launched a movement to boycott Nike. Trump tweeted, "Just like the NFL, whose ratings have gone WAY DOWN, Nike is getting absolutely killed with anger and boycotts…I just find it hard to watch…until they stand for the FLAG!"
Others supported Kaepernick just as passionately as his opposers. Lebron James, for one, said simply that he "stands with Nike." Giants ex-running back Tiki Barber took a more balanced view on the incident, tweeting, "Kaep is using his platform & brand to make a compelling & polarizing point, which is his right, even if it's met with ire! #idontagree."
Due to the turmoil, Nike's stock fell after the ad aired. Many of Kaepernick's detractors celebrated the news, citing the stock dip as proof of the country's opposition to his protest. However, the stock quickly recovered, as investors bet on Nike's history of sticking with controversial athletes (such as Tiger Woods). On Sept. 21, the stock hit an all-time high at $85.55 per share. The sportswear company has also seen a 31% increase in online sales, according to Time Magazine.
At Groton, community members have mixed opinions as well. Jed Rainey '20 said, "I support [the] end of the so-called 'shut up and dribble era.' However, I think his 'sacrifice' is exaggerated. He continues to live a lifestyle that 99% of the country would be jealous of, and will undoubtedly receive significant compensation for such a large ad campaign.
Soldiers and veterans had particularly passionate responses to Kaepernick's original protest. When the Circle Voice asked Groton's veteran alumni for their thoughts, they highlighted Groton's patriotic history, and also provided balanced opinions on the Nike protest.
Many focused on Groton's history of being a patriotic school, and thus hinted at necessary respect toward the anthem and the flag. Tod Gregory '62 (U.S Army) spoke of leading the school on a Memorial Day march from campus to the Groton cemetery, where students read aloud the names of each Groton citizen who had died in war. David Lawrence '63 (USMC) also commented on Groton's culture: "the various memorials to those who gave their lives in wars, including the west interior wall of the Chapel and some of the memorial stones and other memorials (and prizes) to honor veterans –– Starr '04, Fincke '28 and Pyle '64 come to mind."
Along with strong feelings of patriotism, veterans also expressed impartial and informed views. Lawrence wrote, "On the basis of my experience, I believe Colin's statement 'believe in something, even if it means sacrificing everything' is a statement of conviction with which I agree as it expresses commitment, passion, conviction and a willingness to stand for one's beliefs even if there will be negative consequences due to an adverse political reaction or other forces of disagreement grounded in far less important principles." Gregory mused, "Keep an open mind. Cherish our freedoms, our country, and different points of view…My MBA from Berkeley was in marketing and I personally think Nike's ad campaign featuring Colin was brilliant and it has literally paid off." As well as supporting Kaepernick off the field, Gregory also wishes the 49ers to re-sign Kaepernick after Jimmy Garoppolo's season ending ACL tear.
Ultimately, the Nike campaign follows in historical precedent of the company tackling contentious stances and cultural issues. Notably, Charles Barkley once controversially declared in a 1993 Nike Ad, "I am not a role model… Just because I dunk a basketball doesn't mean I should raise your kids." While society has changed since Sir Charles' time, the fundamental principle behind Nike's advertising has not. Controversy sells. The Kaepernick ad campaign continues in this tradition.