Santeri '18 plays with Finnish National Team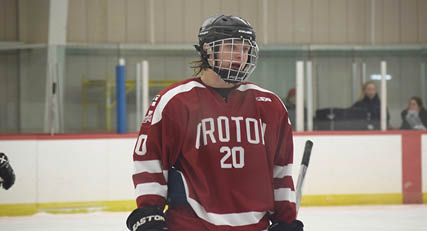 Wearing number 35, Santeri Hartikainen '18 currently represents his home country on the U18 Finnish National Hockey Team. Earlier this fall, he was invited to Detroit, Michigan to play in the Five Nations' Tournament, a high skill level event that pulls teams from around the globe. From November 1st to the 5th, he played a total of four games, competing against some of the best seventeen year olds in the world. Santeri was asked to Detroit last year as well, with the U17 team, and he played against Russia, Czech Republic, and Sweden. This fall was his third year playing with the Finnish National team, making him a strong returner and high impact player.
In the first game, Santeri and his team challenged Sweden, skating away with a 3-0 win. Playing as the center on the fourth line, he scored the next day against Czech Republic. Although Finland was ultimately defeated 3-5 by the Czech team, Santeri elevated his team's level of play, moving up to first line as a left wing. In this new position, Santeri battled against Switzerland in the following game, helping to snag a 5-4 overtime win. This win secured the Finnish team a spot in the championship game against the United States.
In their final game, the boys were neck and neck with the hosting team, fighting for the first place title. With his second goal of the tournament Santeri put Finland up by one point. However, Finland ultimately fell short one goal, finishing in second place with a score of 3-2.
Santeri's talent, as displayed at the Five Nations' Tournament, has not gone unnoticed. In October Santeri earned a spot on the 2017 NHL Central Scouting Draft List. A write up by Hockey Night in Boston about boys' prep school hockey predicted that Groton would have a competitive season, expecting many points from starting player Santeri. He was again mentioned in the New England Hockey Journal's December issue, which stated that he was expected to be a top scorer.
Santeri has started off strong in his second season on the Groton Boys' Varsity Hockey team, tallying eleven points in just four games. His most notable performance thus far was against Roxbury Latin, when Santeri scored four goals and had one assist to lead Groton to a decisive 7-2 win. Santeri also scored the Zebra's lone goal against a talented Rivers team, in a game that Groton ultimately lost 4-1. Santeri is a center on the first line, as well as part of the starting power-play, and the clear offensive leader of the team.
In addition to being a crucial member of the Groton Boys' Hockey team, Santeri continues to demonstrate his skills outside of school as he represents his home country. Best of luck to Santeri this season and in the many to come.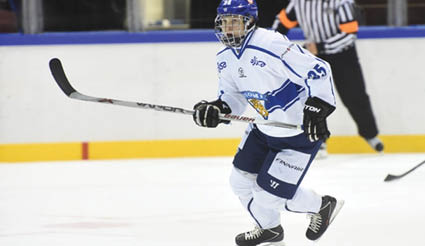 Leave a Comment