St. Paul's to leave ISL, Tabor to join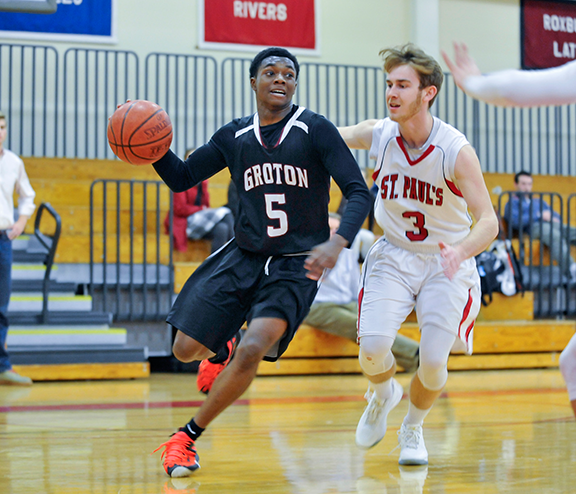 Hang on for a minute...we're trying to find some more stories you might like.
On April 11, 2016, St. Paul's withdrew from the Independent School League, and on September 21, 2016, Tabor was accepted to fill the vacant slot. Groton has had a long history of rivalry and intense competitions with St. Paul's, and this is by no means the end of the historic tradition of games, matches, and meets between the two schools. Groton will continue to compete with St. Paul's and will even go further by establishing a partnership based on charity and service between the two schools. Groton looks forward to maintaining a close relationship with St. Paul's as well as beginning a new one with Tabor.
St. Paul's chose to withdraw from the ISL due to a controversy concerning their merit-based scholarships and the league's bylaws. According to their website, "While for 43 seasons St. Paul's has enjoyed the competition, spirit of integrity, fair play, and camaraderie among the 16 member schools, the School chose to withdraw out of respect for league bylaws. Three merit-based scholarships offered to SPS students are in violation of an ISL bylaw prohibiting member schools from offering non-need-based financial aid. For this reason, and because of the School's commitment to offering admission to students from many different backgrounds, St. Paul's has elected to give up its ISL membership." These three scholarships (The Cooke, Greene, and Ross) go out annually to a student from Montana, a student from Alabama, and a student from New Jersey; they are officially given for character and academic accomplishment. St. Paul's athletic director Scott Heitmiller thinks that it is unfortunate that the school had to withdraw, but, as stated on the St. Paul's athletics webpage, he sees some positive in that, "We have wonderful relationships with the ISL schools, relationships we will maintain outside of athletics. But we are hopeful that these schools will continue to compete with SPS teams as non-league opponents into the future, ensuring that we maintain those competitive rivalries." St. Paul's will now be mainly competing against the schools in the 5 School League, which includes Andover, Exeter, Choate, Northfield Mount Hermon, and Deerfield.
Tabor Academy will be filling the open spot in the ISL, and they are overjoyed to do so. Eight schools were seriously interested in joining the Independent School League and six were interviewed by the ISL board, which is comprised of three athletic directors and three heads. Groton athletic director Mr. Low described the board as "a diverse group representing big, small, boarding, and day schools from our league." It was ultimately Tabor selected to join the league, and they are no stranger to the ISL schools, having often competed with Groton and other schools in the league in non-league matches. Tabor's Head of School, John Quirk, went to St. Mark's, taught at Brooks, and is eager to join the ISL. In a statement in a press release, Tabor's athletic director Conan Leary is similarly thrilled, stating, "We applied to join the ISL because we believe that doing so will create better, more satisfying and more meaningful competitive learning experiences for our student athletes… ISL schools tend to be fierce competitors and there are tremendous and fun rivals in the group. However, it is rare for that competitiveness to overshadow some essential truths: that it is in the process of competition, not its outcome, that student athletes best grow." Located in Marion, Massachusetts, Tabor currently has 514 students, and its mascot is the sea wolf. Starting in the fall of 2017, Groton teams will visit their waterfront campus, and Tabor team's will regularly compete on the circle.
St. Paul's leaving the ISL is by no means the end of Groton's relationship with them — in fact it is the beginning of a new one. According to Mr. Low, Groton will be starting a partnership with St. Paul's where each year the schools will give money to a charity decided by the faculty and students of one of the schools; and then the next year, the other school will decide. When it is Groton's year the charity we be decided by Mr. Freeman-Coppadge and the GCE. "It is astounding that we will sustain this relationship based on empathy, philanthropy, and service," said Mr. Low, "I've always enjoyed competing against [St. Paul's.] They are similar to us in that they emphasize sportsmanship and have notions of excellence in the classroom." Groton students feel similarly. Anders Orr '19 says, "I think they are good competitors, but I understand why they are leaving and look forward to playing both them and Tabor in the future."
About the Writer
Westby Caspersen '17, Staff Writer
Westby Caspersen '17 is a Fifth Former who has written for The Circle Voice for two years. He writes mainly for the Sports section and is a three-sport...